Ghrian Ring
Discover the allure of mystical chrome spinel, sourced from the lowland hills of Scotland. With its unique leopard print patterns, this rare crystal rock adds an element of intrigue to this distinctive piece.
Thoughtfully handcrafted in chunky recycled gold, the striking centrepiece features a dark, enigmatic spinel crystal rock that embodies the mystique of its origin. A minimalist aesthetic highlights the uniqueness of this rare Scottish gem.

Each stone is cut by hand, making each one different and uniquely captivating.

This is the only ring of this style and stone available for purchase right now - ready to ship in time for Christmas. The ring pictured is the exact ring you will receive.

Ring Size: M

Stone Properties

Helps unveil talents relating to your career or hobbies by bringing about clarity and helping you connect with your higher purpose.

Known for its grounding effects on the emotions it helps you see things from a different angle and in a more positive light.

A deeply mysterious stone, Chrome Spinel embraces fortitude, seeing you through on your journey.
Details

Size: M

Materials: 9ct recycled gold and Chrome Spinel stone.

Satin (matte) finish.

Dimensions: Band 5.6x1.4mm. Disc diameter 17.6mm. Disc width 3.6mm

Stone Origin: Lowland hills, Dumfries and Galloway.

Made in Scotland
Care

Gently clean your jewellery using a soft lint free cloth with lukewarm water and a mild soap. Gently pat dry. (Avoid harsh chemicals, detergents and abrasive cleaners)

All jewellery naturally tarnishes over time. The best advice is to store jewellery in a small airtight bag when not in use then pop it in its pouch. To remove tarnish a jewellery polishing cloth may be used.

Due to the nature of natural stones, I do not recommend ultrasonic cleaning.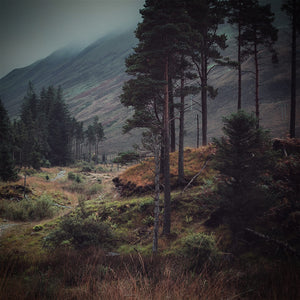 This leopard print crystal rock will help unveil talents relating to your career or hobbies by bringing about clarity and helping you connect with your higher purpose.

Origin of find: The lowland hills, Dumfries and Galloway