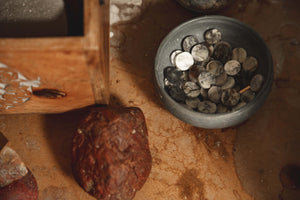 The Ancient art of lapidary
Lapidary is the craft of working with stone and has been around for Millennia. It includes various methods like faceting, cabbing, carving and tumbling of stones. Using some of these traditional methods I cut and polish the stones to make your jewellery and the equipment I use has changed very little since bygone days.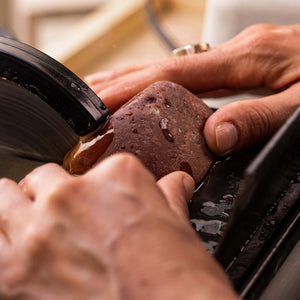 Stone slicing
The first step is to slice the stones into smaller more workable pieces. At this stage I can begin to see some of the unique patterns within the stone. Sometimes it can completely surprise me when I see the colours and patterns hidden inside. Each stone I work with feels different, some are much harder and slower to cut through than others.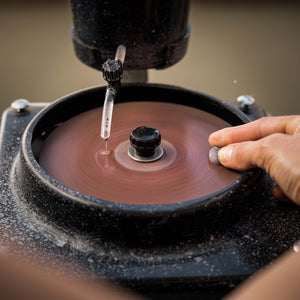 Shaping and Polishing
The stones are cut down into smaller pieces. I'm always paying special attention to their unique patterns, then I move on to shaping. I slowly create each stone disc one at a time. The disc must be the perfect fit for the metal so this takes some time. When I have the perfect fit the stone polishing begins - for this process I work through various different polishing wheels, each step creates a slightly higher polish until the stone is completely smooth and scratch free.
There are some videos on my instagram page showing some of the processes involved.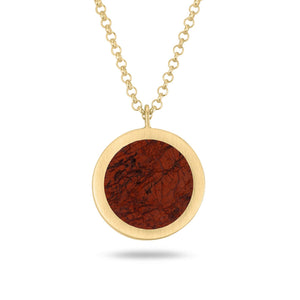 The final Result
The processes involved are laborious but revealing the hidden beauty of these ancient stones is an immensely rewarding task.
Explore Pendants